Posted on
By Lux Boutique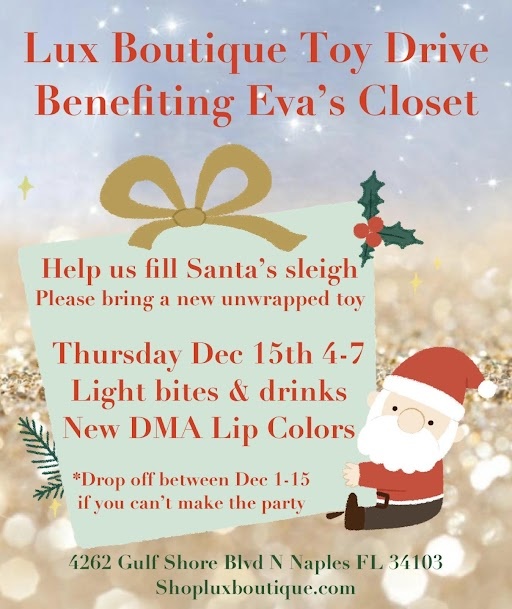 Lux Boutique, located in Florida's Venetian Village, announces its annual Toy Drive to benefit Eva's Closet will take place on December 15, 2022.
Lux Boutique has always focused on giving back to the Naples-area community, and the annual Lux Boutique Toy Drive is one of their favorite events. The Christmas-themed party is on December 15, 2022, but those who are unable to attend can bring new, unwrapped toys to Lux Boutique at 4262 Gulf Shore Boulevard North - right in the heart of the Venetian Village - between now and December 15. 
The beneficiary of the toy drive, the Eva's Closet Foundation, is committed to aiding people in need regardless of their circumstances. Every month, they serve more than 1,500 people who are homeless, living in poverty, or otherwise in need of help, and they do so without judgement. Some of the items they provide include clothing and shoes, baby supplies, hygiene products, food, household supplies, and school supplies. With the help of the Lux Boutique Toy Drive, Eva's Closet hopes to donate hundreds of wrapped Christmas gifts to children in need. 
Aside from the Toy Drive, Lux Boutique donates clothing to Eva's Closet for distribution to the families and individuals they help. We regularly donate to organizations such as the PACE Center for Girls and the Mutt Society, and we collect donations for SNIP, which provides spay and neuter services in Naples and the surrounding areas. 
To help Lux Boutique and Eva's Closet make Christmas merry and bright for children in the local area, simply pick up an extra toy from one of your favorite retailers and bring it to Lux Boutique to fill Santa's Sleigh. The toys will be distributed to local children by Eva's Closet following the party.